The Great Arousal
Workshops––––––

Collective Sensory Awareness & Holotope


During summer 2018, the project The Great Arousal was presented to the people of Athens in a first meeting called "Reclaiming Pleasure", which took place in the Centre for the Arts Beton 7. Later, two series of experimental workshops took place on diverse rooftops. The first series was called "Collective Sensory Awareness", and the second, "Holotope".

The series of workshops emphasised exploring the relationship between architecture, desire and music. Through activation and sensorial stimulation of the body, participants would hopefully reconnect with pleasure and joy. Groups of ten participated in meetings with discussions, physical exercises and guided mediations. In order to preserve the authentic experience of the participants, there was no visual documentation, only written testimonies.

For the second series, Holotope, a post-human form of desire and affectivity was explored. The name Holotopos comes from the Greek "holos", meaning whole or wholeness, and "topos" meaning place. It is a meta construction that does not have physical limits, walls, and structure, where human exceptionalism and dualism cannot operate. These workshops were an invitation to imagine erotic interaction between humans and non-human beings.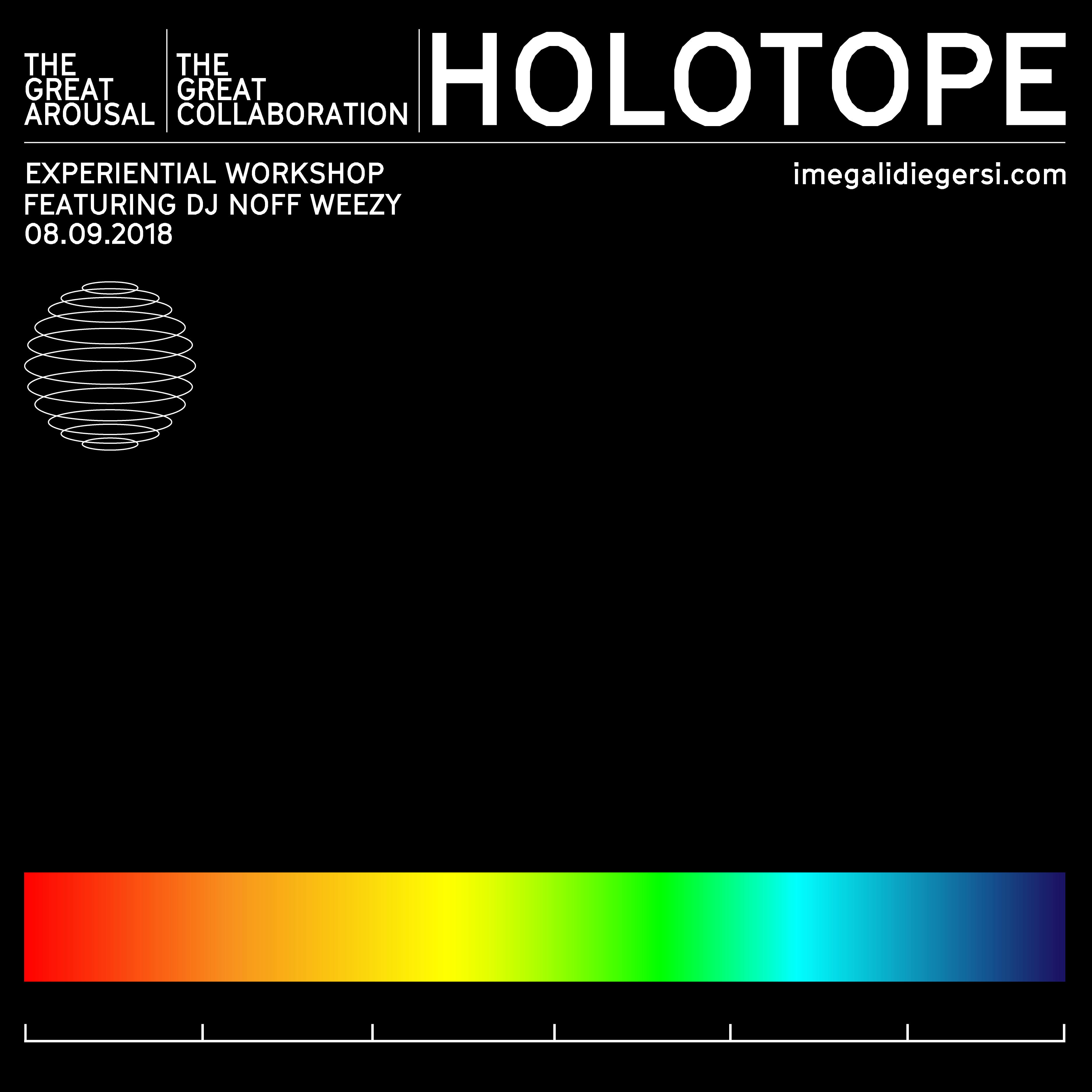 Holotope's Participants Testimonies:

"Spa for the nervous system."


"I feel in peace with the world. Not afraid of it."


"…feeling and touching the ground. It was mind blowing. With the help of music, I became a totality."


"Totality."


"Architecture will remain sexy for me now."


"Music made me trip."


"Self-opening. Pleasant."


"I thought a lot of my sexuality (so more about the inside than the outside) and a lot of important thoughts came up."


"You experience your body in a different way, so "being together" is experienced in a different way."


"Affection and tenderness were present on so many occasions."
"Late night. Shortly before dawn. People embraced. Unknown familiars. Life. Quantum of solace. Far all. Those in the sunny offices. Those in the dark small flats. Those who came rightfully illegally. Those who stayed rightfully unwillingly. All. One. Architecture of affection. Architecture of bodies. Architecture of unity. In Patission Avenue. The dark core of Athens. An urban landscape of provocative innocence. And flesh. From everywhere. The rooftops of Athens. A floating vacuum in an urban ocean. A pot for desire. Or atonement from life. Urban travelers all around. Common destination? Unknown. Dwellers, flaneurs. Open to the visual sign. Units of an unknown hidden sum. Cheap posters as holy Icons. Against our sensual orthodoxy. In vain. An unknown inherited disease. A need. Love in small bites. Addiction's dose. Anonymously. Unwillingly. Falsified desire. Faceless. In love with a role? Your own? Default. DEFAULT."
P.K.
Collaborators: Noff Weezy, Maja Chiara Faber, Daniela Sobarzo, Lindsay Parkhowell, Julia Shirley-Quirk and Ben Pothecary.
Producer: James Simbouras
This session was kindly supported by Cannibal Radio, Contemporary Art Showcase Athens and Scrap Coop.

Copyright © 2020 Raúl Hott, All rights reserved
Posters ︎
Campaign ︎